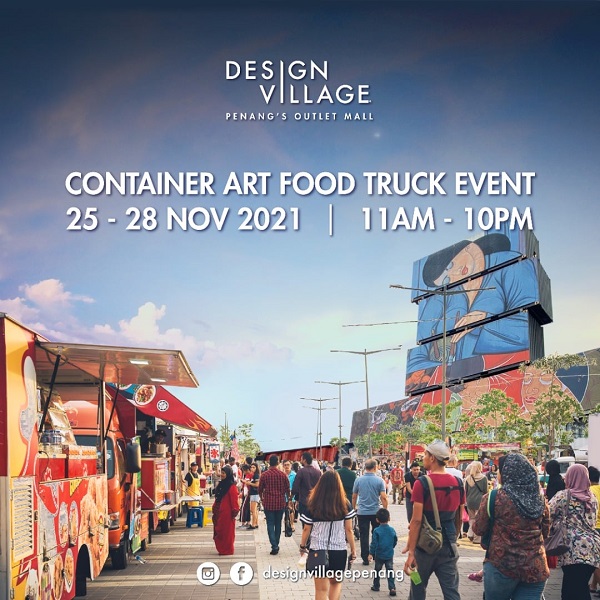 24 Nov

Container Art Food Truck at Design Village Mall

The Container Art is here and Food Trucks will be here this 𝟐𝟓𝐭𝐡 𝐍𝐨𝐯𝐞𝐦𝐛𝐞𝐫, 𝟓𝐩𝐦 𝐨𝐧𝐰𝐚𝐫𝐝𝐬 𝐮𝐧𝐭𝐢𝐥 𝟐𝟖𝐭𝐡 𝐍𝐨𝐯𝐞𝐦𝐛𝐞𝐫 𝟐𝟎𝟐𝟏 at our 𝐎𝐩𝐞𝐧 𝐂𝐚𝐫 𝐏𝐚𝐫𝐤, 𝐃𝐞𝐬𝐢𝐠𝐧 𝐕𝐢𝐥𝐥𝐚𝐠𝐞 𝐌𝐚𝐥𝐥!
Come & enjoy the celebration of our 5th Anniversary as we collaborate with Penang Global Tourism by giving you the best taste of food varieties & shop with us to redeem redemption rewards! Also, take a picture with our Container Art by Sasha Korban and Bibichun the infamous street artists. Moreover, 𝐞𝐱𝐩𝐞𝐫𝐢𝐞𝐧𝐜𝐞 𝐨𝐮𝐫 𝐏𝐞𝐧𝐚𝐧𝐠'𝐬 𝐭𝐫𝐞𝐚𝐬𝐮𝐫𝐞 𝐓𝐫𝐢𝐬𝐡𝐚𝐰 𝐑𝐢𝐝𝐞 𝐡𝐞𝐫𝐞!
Don't miss it! Mark your calendar on 25th – 28th November 2021! Come and satisfy your cravings here all at one place while you enjoy the art of Penang culture!
Get ready & see you soon peeps!
#foodday #foodie #foodtruck #foodactivity #celebration #Designvillage #DVO #batukawan #penang #penangfood #foodiesofinstagram#penangfoodie